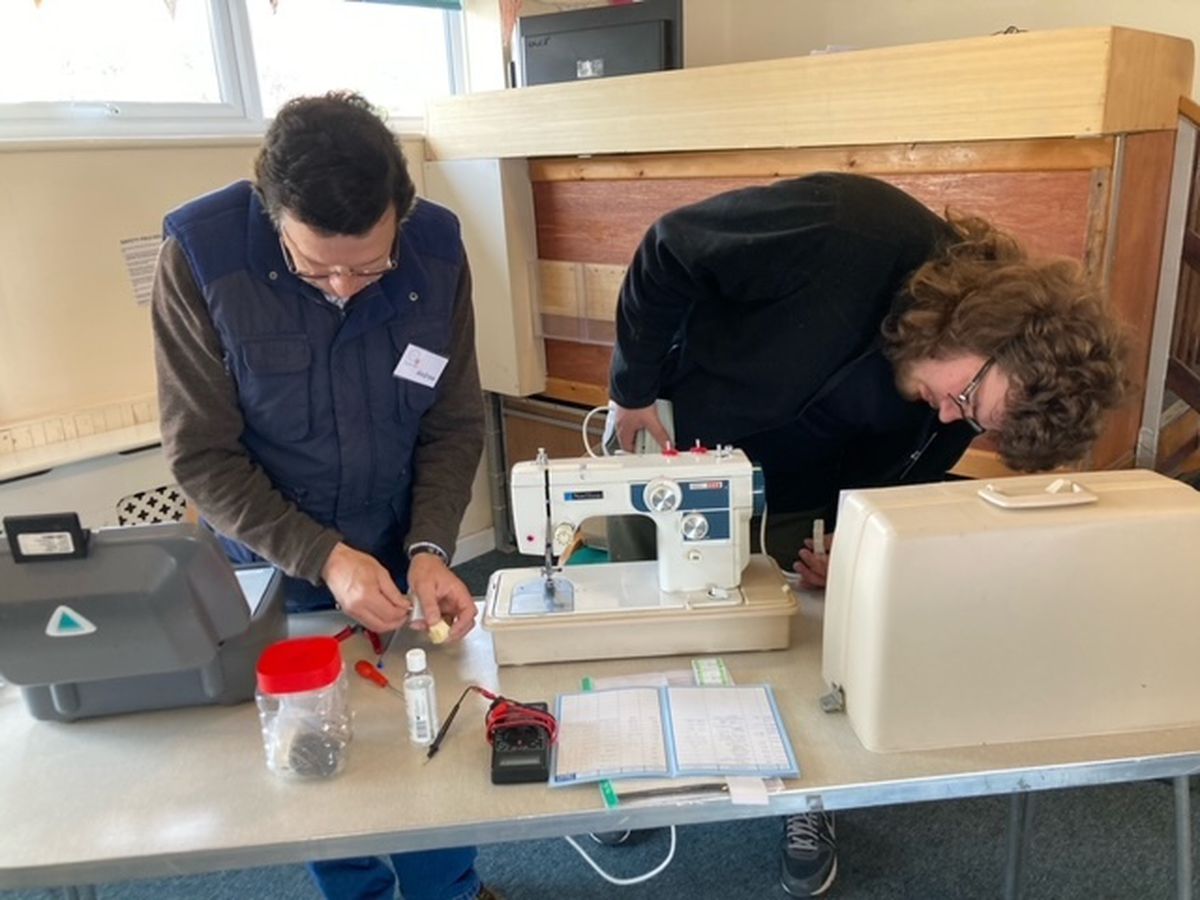 Andrew and Edward Moore PAT testing a sewing machine
The Ludlow Repair Café has risen to the challenge of Covid and at the end of its sixth year of operation is only going from strength to strength.
His next appointment is on Saturday October 29th
Di Lyle, who founded the Repair Café in Ludlow in 2016 and continues to run and run it, said: "It has been and continues to be a rewarding journey.
"The Repair Café would not have been possible without the enthusiasm and dedication of these early volunteers – many of whom are still employees – but as the Repair Café has grown, so has this group.
"The workshops continue to bring their know-how and expertise, but they are now supported by a group of administrators with just as much know-how and experience who keep the wheels turning. And everyone is smiling anyway!"
At the first event in 2016, there were six workshops and only a dozen interested parties, but the items that arrived kept the workshops engaged and intrigued, and there was a great atmosphere.
After that, all workshops were excited to go ahead and within the first 12 months the restoration group had tripled in size, as had buyers.
Di set up a sample of quarterly café events on the last Saturday in January, April, July and October, which lasted until the Covid invasion and primary lockdown in 2020.
However, she added, "Things are still breaking and there has been a greater, if not greater, need than ever to offer a restoration service and most of the repair team welcomed the opportunity to keep themselves busy."
A range of new processes were developed to keep homes and workshops safe, and the 'new look' Repair Café thrived as its 'in-home' service grew.
Since restrictions were lifted in July 2021, the Repair Café has returned to its quarterly meetings of January, April, July and October, but the 'in-home' service will continue, allowing repairs to be found across 12 months.
The Ludlow Repair Café staff has a variety of specialists including clocks, radios/stereo's (the older the better), toys, lamps, jewelry and sewing, but apart from the unacceptable televisions and computer systems everyone will try to make ends meet. with pretty much everything.
An equally integral part of this team is a qualified electrical safety tester, and donations raised over the past few years have enabled the Repair Café to purchase its personal safety testing equipment.
The next Rally of Craftsmen will be held at Elim Church Hall in Ludlow's Smithfield car park on 29 October between 9.30am and 12.00pm.